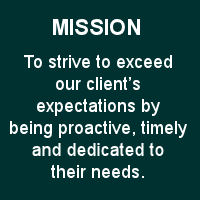 Privately owned businesses representing a broad spectrum of industries in the metropolitan Boston area have been counting on R. J. Gold for many years.

We are committed to providing our clients with the highest quality of services in the financial reporting, tax compliance, financial planning and operational management arenas. We believe that our client's success is our success and we assist them at every step of the way to achieve their goals. We accomplish this by listening to our clients concerns and taking the time to understand their objectives and then trying to provide them with an appropriate solution to their needs.

Experience & Knowledge

Over the years, we've expanded our range of services to meet the ever changing needs of our clients.

Look to us for the experience and knowledge required to approach the increasingly complex financial and management issues faced by your organization.

Understanding Your Business

In today's ever-changing business environment, you can use professional accountants who know and understand your business. We are there for you, we understand the needs of your company.

Our group of technology professionals offer management consulting, audit and accounting, and tax assistance. Together, we identify areas for improvement and opportunities for growth within your industry. We not only assist you and guide you to become a better and more effective company. We share in your vision.

We recognize your need for a comprehensive package of financial due diligence and portfolio assessment services. No two businesses are alike. Understanding those differences enable us to provide you with secure information - allowing you to make necessary decisions regarding investments and loans.

No matter what your needs are, from basic overall mortgage portfolio evaluation to the assessment of new acquisitions or projects - let our experience guide you and be your asset.